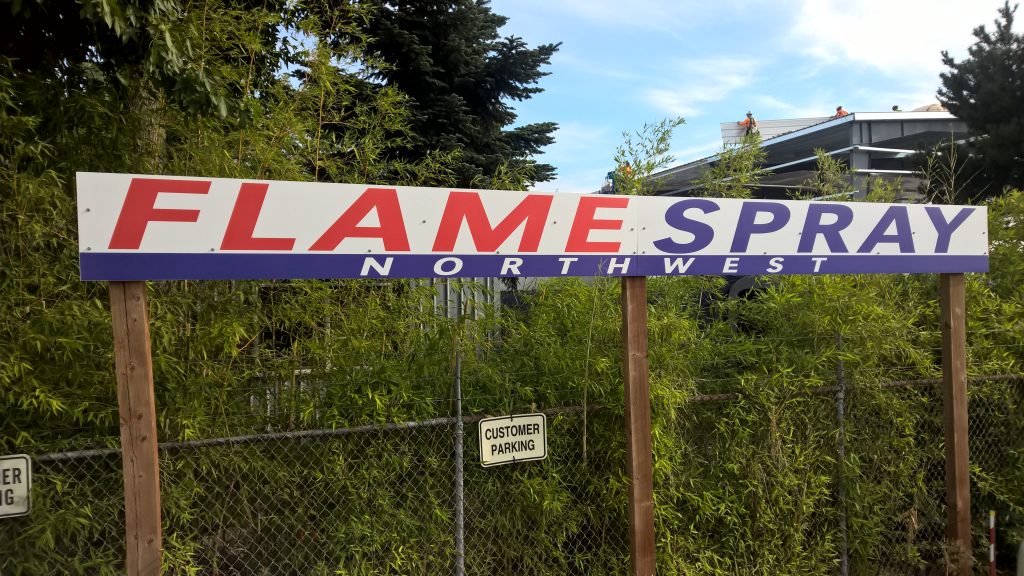 ABOUT US
Flamespray Northwest is recognized as a leader in providing metalizing and shaft repair. Our customer base stretches nationwide, into Canada and the Gulf States.
Decades of custom thermal coating experience allow us to take pride in understanding our customer's application requirements and providing appropriate solutions that fulfill their expectations.
Flamespray Northwest has developed a commitment to uncompromising quality and timely service with proven capabilities in the following areas:
*Shaft repair using twin wire, plasma spray and HVOF technology
*Cylindrical Grinding both inside and outside diameter
*Light Manufacturing: We can fabricate shafts, sleeves and add our wear coatings for longer life.
*Corrosion Coatings: Zinc, Zinc Aluminum and Aluminum coatings keep corrosion away in corrosive/marine environments
*Sandblasting: Flamespray Northwest has a full sandblast facility offering Garnet blast to SP5 white metal blast, glass bead blasting and sandblasting onto wood.
We are known for our knowledge and experience in Thermal Spray solutions. Customers rely on us to solve their most challenging applications.
HISTORY
Flamespray Northwest was started in 1977 by Joe Orint who continues to run the business today along with his son Chester and daughter Cheryl.
Joe started in the Thermal Spray Industry in 1969 as a salesman for Metco.  At that time Metco, was the leading supplier of Thermal Spray equipment and materials.
Between 1973 and 1977 he worked as an Application Engineer for the largest Thermal Spray job shop in the Northwest region.
Flamespray Northwest maintains membership in various associations in order to stay current with advances in the industry.
 *The American Welding Society
*American Society of Metals
*Steel Structures Painting Council
    
In 1995 we moved to our new facility and now operate in a 30,000 square foot facility in Seattle, Washington.  We perform a wide variety of processes in-house, including machining, thermal spray applications, sandblasting, welding and superfinishing.  We work with a wide range of markets offering advanced coating applications to repair and enhance a variety of parts, components and equipment.
Through hard work, commitment to quality and competitive pricing, Flamespray Northwest has become the preferred vendor for Thermal Spray Coating solutions.
Our goal is to supply superior service using the latest advances in Thermal Spray Technology.